Dr. Shervin Rowshani
HBSc, DDS, MBA

Dr. Shervin moved to Toronto in 2001 where he attended school and majored in pathology and microbiology. After graduating from the University Of Toronto's Faculty of Dentistry – where he was actively involved in student politics being a representative for the ODA and CDA – he began practicing dentistry in London, Exeter and the Kincardine area where he became quite involved in dentistry and the communities he lived in. During this time he developed a passion for all aspects of dentistry including paediatrics, anxiety reducing sedation techniques and surgery. Dr. Shervin moved to Muskoka in 2013 after purchasing Dairy Lane Dental, his first dental practice!
Dr. Chynna Rae McLean
DENTIST, DDS

Originally from Cape Breton, Nova Scotia, Dr. Chynna Rae McLean obtained her Bachelor of Science in Chemistry from the University of Prince Edward Island in 2006, and went on to receive her DDS at the University of Toronto's Faculty of Dentistry in 2010. Upon graduating, Dr. McLean practiced in the Niagara region before returning to NS where she called Halifax home for five years. She practiced all aspects of dentistry before returning to Ontario in early 2017. Along with her husband and young daughters, she is now happy to call Muskoka home. Dr. McLean is an active member of the Canadian Dental Association and Ontario Dental Association and believes that every patient is unique and their needs should be treated individually with care and compassion.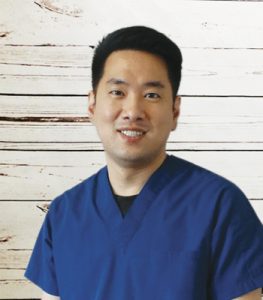 Ryan Lee
RESTORATIVE DENTAL HYGIENIST

After graduating a Bachelors of Science in dental hygiene in 2009, Ryan completed the Restorative Postgraduate Program with a specialization in orthodontics at George Brown in 2013. Ryan's interest to pursue a career that specializes in restorative originates from the excitement he finds in being a part of the change in an individual's smile. He enjoys being a part of their transformative journey to acquiring the smile that they have always wanted. Ryan has been part of Dairy Lane Dental since 2017. In his free time, Ryan enjoys traveling, snowboarding, and playing softball.
Kara Evershed
RESTORATIVE DENTAL HYGIENIST
Kara has been working as a hygienist since 1993 restoring and enhancing our patients smiles. Kara moved to Muskoka in 1988 after graduating from Canadores' Dental Assisting Program.  Due to her love of learning and love of dentistry she continued her education and graduated with honours in 1993 from Canadore Colleges' Dental Hygiene program and graduated with hounours in 1995  from George Browns Restorative Dental Hygiene program.
Kara lives in Bracebridge with her family and stays active in Muskokas great outdoors.
Tanya Olive
LEVEL II DENTAL ASSISTANT
Tanya joined the team in 2017, she has over 15 years experience as a level II dental assistant. Graduating from Georgian College she first became interested in dental through her family dentist as a teenager. She loves the ever changing role an assistant has as part of the team.
A Muskoka native, she loves spending time with her husband Steve, boys Tyson and Carter, and puggles Athena and Leonidas. Avid sports enthusiasts (they can always be found at some hockey rink), she enjoys all Muskoka has to offer from skiing to rowing.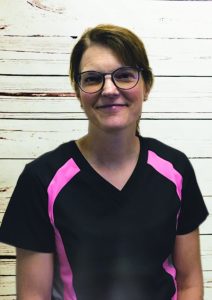 Tina Quinn
LEVEL II DENTAL ASSISTANT
After many years working in the health care field, Tina has expanded to dental assisting. In December of 2018, she graduated from the Georgian college, dental assisting program, making the dean's list. She is now a Certified Level ll Dental Assistant. At Dentistry in Gravenhurst, Tina is busy working chairside assisting the dentist and hygienists. It's her goal to make your dental visit as pleasant as possible. She feels the best way of achieving this is by displaying professionalism, compassion and a warm interest in her patients. Tina enjoys spending time with her husband and three children, sharing in volunteer work, and enjoying the outdoors.
Taylor Maw
LEVEL II DENTAL ASSISTANT
Taylor grew up in Huntsville graduating from Huntsville High School in 2018. After loving her high school co-op experience in a local dental office, she pursued the dream and enrolled in the dental assisting program at Georgian College in Barrie right after graduation. She completed her final month as a student placement in July 2019 at Dairy Lane Dental and became part of the team permanently immediately after. She graduated with honors in October 2019.
Michelle Gibbs, RDH
DENTAL HYGIENIST
Michelle has close to 16 years experience in the dental field.  Prior to completing her dental hygiene training she also completed her dental assisting certification and bachelors degree.  Michelle has certifications in orthodontics , laser therapy and is a certified implant auxiliary with the American Dental Implant Association.  When not working in dentistry,  Michelle enjoys spending time with her two children or riding her road bike.
Cindy VanAlstyne, RDH
DENTAL HYGIENIST
Cindy has been in dentistry since 1983. She has been a hygienist for 32 years and offers a wealth of knowledge in her field. Continuing education has been an important part of her career she has and will continue to routinely update and refine her skills. You will find Cindy on her property on the lake where she enjoys the outdoors, including her new paddle board.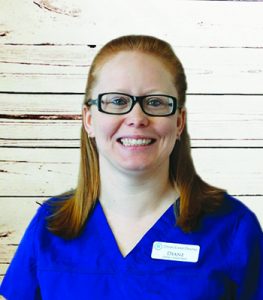 Diane Ballantine, CDA I
CERTIFIED DENTAL ASSISTANT
Diane joined our team in April 2014 as a dental assistant. She completed her training at Canadore College graduating in June 2003. She is a valuable asset to our team, she is very thorough in everything she does and takes great pride in every task she is given. Diane is active in the community volunteering with the Stisted fall fair, In her free time she can be found spending time with her daughter, family and friends enjoying the great outdoors.
Vicki Chatwin
RECEPTIONIST
Vicki recently moved to Gravenhurst from Northern Ontario where she worked as a dental receptionist. She is excited about this new chapter in her life and looks forward to working with all the staff and patients. In her spare time Vicki enjoys aqua fitness, cooking, attending local art and entertainment venues, volunteering, walking, exploring , ice fishing, snowmobiling, traveling, shopping and spending time with her husband, her two sons, their wives and granddaughters.
Joy Phillips
PATIENT COORDINATOR
Joy grew up in Bracebridge, she spent most of her adult life in Tottenham and then moved back to Muskoka 12 years ago.  At that time she purchased West Side Coin Laundry and operated it for 7 years.  She worked in dentistry for 25 years and decided to join the dental community again in 2016.